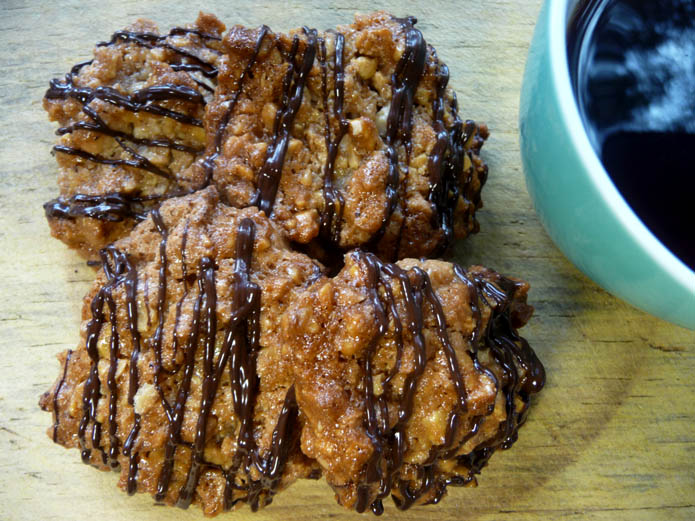 There comes a point in every cook's life, normally after having made Hollandaise sauce or a crème brûlée, when he must decide what to do with the leftover egg whites. Of course they can be frozen, but that is just delaying the inevitable decision that must eventually be made. A quick Google search will yield a few recurring suggestions–macarons, angel food cake, soufflé and pavlova–however I have come to love something a bit different; something that is a little bit ugly, but ever so delicious: Brutti Ma Buoni Biscotti.
Roughly translating from Italian as Ugly but Nice Biscuits, these hazelnut based treats, perhaps originating from Lombardia, or maybe from Piemonte, are perfect for using up extra egg whites and are extremely simple to make (unlike the notorious macarons, which are forever frustrating bakers everywhere). They require so few ingredients and can be made days in advance. They have a crispy outside shell, however the inside remains soft and chewy.
Ingredients
100g egg whites
200g caster sugar
200g skinless almonds and hazelnuts (I normally use about 60-70% hazelnuts)
1 teaspoon of vanilla paste or vanilla essence
Dark chocolate (optional)
Preparation
Toast the hazelnuts and almonds in an oven until they become aromatic and slightly browned. Crush them roughly in a pestle and mortar (or chop with a knife or food processor). They should be broken into small granules, however they should not be ground to a fine powder.
In an electric mixer, whip the egg whites until they form soft peaks. Slowly add the sugar and incorporate well.
Fold the crushed nuts and vanilla through the whipped egg white and sugar mixture.
Transfer the mixture to a saucepan and cook over a low heat, continuously stirring, until it becomes brown in colour. The batter should still be very sticky, however firm enough that it will hold its shape. Approximately 15 minutes.
Spoon small amounts of the mixture onto a lined baking tray, being sure to leave adequate space in between each biscuit. Keep in mind that these will expand when cooking.
Cook in an oven set to 160°C for approximately 20-25 minutes, or until they have become golden brown. They will still be very soft when hot, and only harden upon cooling.
Let the biscuits cool completely in the open air. Once cool, drizzle some melted dark chocolate over the top and allow it to set before storing the biscuits in an air-tight container.
I mentioned in a previous article, Two Weeks with the Thermomix, that the Thermomix is perfect for making these because it takes away the need to stand at the stove and stir continuously. With the temperature set to 90°C and the butterfly mixer attached, it's just a matter of putting the mixture into the Thermomix and then waiting.