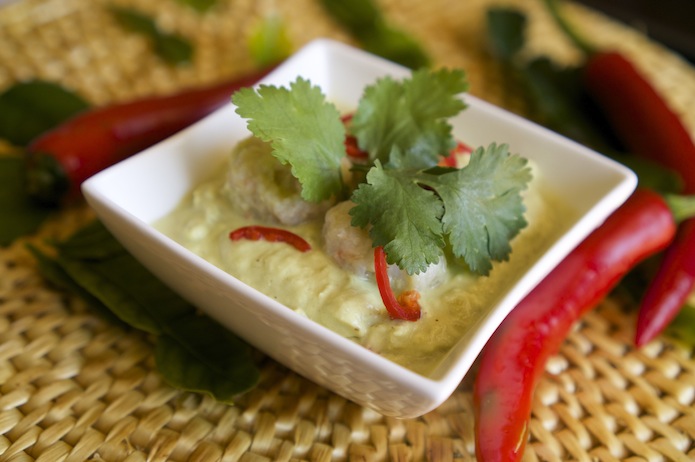 Green curry is undoubtedly one of the most well known culinary products of Thailand, made green by the heavy use of green chili. Like many of the South-East Asian curries, a traditional Thai green curry is so intensely packed with flavours imparted by the great number of ingredients used. If used in the correct quantities, though, everything will balance out into a perfect harmony. Actually, one of the reasons why so many people probably resort to buying a pre-made curry paste in a jar is that the long list of ingredients can be quite intimidating, especially when many of the ingredients are so foreign. Grachai? Gapi? Betel leaves? Galangal? Most people probably wouldn't know what these are, let alone where to buy them. The good news though is that many of the ingredients can be substituted, and some even omitted completely (within reason). The final product won't be exactly the same, but it will still be a very delicious curry, most likely better than one from a jar. However, there are some key ingredients that absolutely cannot be removed if it is to resemble a true green curry, as Pim from Chez Pim so eloquently puts it:
 Otherwise, it's like Jack Nicholson ordering the chicken sandwich in Five Easy Pieces: hold the mayo, hold the lettuce, hold the tomatoes, and hold the chicken, just bring me the bread. Frankly, I hardly care if people make up whatever paste they fancy, but just do me a favor and don't call it chicken sandwich Thai green curry paste when it isn't..
I can agree with this; it's great to be experimental and adventurous with food, but at the same time it is important to be clear when an apple is no longer an apple. Some modern chefs do this well with the use of qualifiers–it's a "deconstructed" Greek salad (I'm looking at you George Calombaris), or a "modern" canard à l'Orange.
This recipe is a modification of one found in David Thompson's Thai Food. Although there are some great Asian food locations in Perth, there are some ingredients that I am yet to find and have hence omitted. Most of these ingredients can be found in any decent Asian grocery, and increasingly in supermarkets like Woolworths and Coles. One word of warning to those who have never used shrimp paste though: be prepared for the (awful) moment when you open the container!
For some great discussion of typical Thai ingredients (and Thai cuisine and culture in general) check out Kasma Loha-unchit's Thai Food and Travel website, it is probably one of the best online sources of information on Thai cookery, and where I first found an interest in learning how to cook Thai food.
Ingredients
Paste
4 Tablespoons chopped green chili (the original recipe calls for half Birdseye and half long green chili)
1 Tablespoon chopped galangal
3 Tablespoons chopped lemongrass
1 Tablespoon cleaned and chopped coriander root (or stems)
1 Teaspoon chopped turmeric
3 Tablespoon chopped red shallot
2 Tablespoon chopped garlic
1 Teaspoon shrimp paste
1 Teaspoon white peppercorns
1 Teaspoon coriander seeds
Prawn Dumplings
200g cleaned prawns
2 Tablespoons cleaned and chopped coriander roots
1 Tablespoon chopped garlic
1 Tablespoon chopped ginger
5 White peppercorns
1-2 Tablespoons plain flour
1 Tablespoon light soy sauce
1 Teaspoon white sugar
Curry
2 Cups coconut cream
2 Cups coconut milk
2 Tablespoons vegetable oil
2 Tablespoons fish sauce
1 Cup chopped baby eggplant
2 Kaffir lime leaves
1 Long red chili to garnish
Coriander leaves to garnish
Preparation
Making the curry paste
Gently roast the coriander seeds and white peppercorns in a pan over a medium heat, and then grind to a fine powder with a pestle and mortar.
Add the remaining ingredients to the mortar and pound vigorously until the ingredients have been reduced to a smooth paste
Note: After grinding the spices, the paste can be made by processing the ingredients in a food processor. There is something nice about using a pestle and mortar though, and many Thai traditionalists frown upon the use of a processor.
Making the prawn dumplings
Pound the coriander root, garlic, ginger and peppercorns until they form a smooth paste.
Chop the prawns as finely as possible, and then add the coriander root paste. Mix thoroughly.
Add the sugar and light soy sauce
Add just enough flour to the mixture so that it can easily be formed into balls. Adding more flour will give the dumplings a firmer texture with more bite. This can be good and is a matter of personal preference.
Just before the curry is ready to be served, form small balls with the prawn mixture and poach in lightly salted simmering water for 2-3 minutes, or until the dumplings are cooked through.
Note: Before cooking all of the prawn mixture, it is advisable to cook just one test dumpling to check whether the amount of flour and seasoning is ok. Adjust if necessary.
Making the curry
Heat the oil in a saucepan and fry the curry paste for a few minutes
Add the coconut cream, coconut milk, fish sauce and eggplants. Continue simmering until the eggplants are thoroughly cooked and soft. Add the kaffir lime leaves and simmer for an additional few minutes.
Serve the curry with the prawn dumplings alone or with rice. Garnish with fresh coriander leaves and finely chopped red chili.