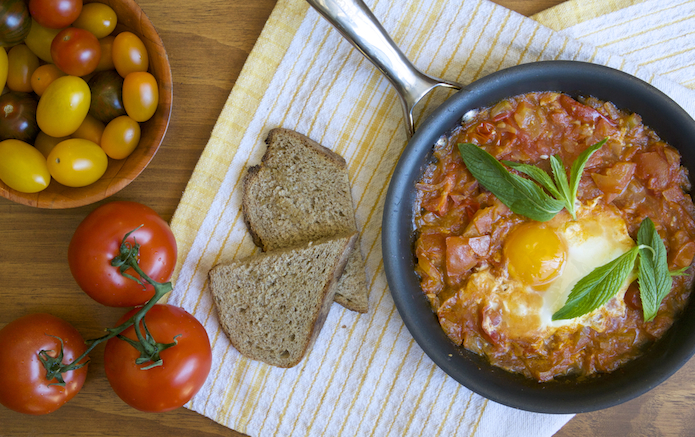 Breakfast is probably one of the least creative meals of the day in Australia, with the majority of restaurants that open in the early morning hours offering a pretty typical menu of toast, a "full breakfast" (usually eggs with bacon, tomatoes, mushrooms and sausages), pancakes, and yoghurt with muesli. There are some great breakfast locations in Perth that do offer a variation from the usual, but they are few and far between.
I was watching an Israeli cooking show a few months ago on TV and learned about Shakshouka (although sometimes spelled shakshuka or chakchouka), a dish of eggs poached in a spiced tomato sauce. It looked exactly like the type of dish I'd enjoy for breakfast, essentially being composed of traditional Australian breakfast items (eggs and tomatoes), but flavoured with some of my absolute favourite spices (cumin and coriander seed).
I have made shakshouka quite a few times now, and it is without a doubt on my list of favourite things to make for breakfast (or lunch…or dinner…). Not only does it taste great, but it is a one-pot-wonder, so there aren't too many dishes to clean up afterwards. My recipe probably isn't completely traditional with the addition of pancetta for flavour, but so what?
Ingredients
Serves 1
200g chopped ripe tomatoes
40g chopped red onion
1 clove of garlic
30g finely chopped pancetta
1 teaspoon ground cumin
1 teaspoon ground coriander seed
1 tablespoon chopped green chili (seeds removed)
1/2 cup chicken stock
1 tablespoon extra virgin olive oil
Salt and pepper to season
Fresh mint or parsley to garnish
1 or 2 eggs
Preparation
Fry the finely chopped pancetta in the olive oil until the fat starts to become translucent and soft. Add the chopped onions, garlic, chili, cumin and coriander seed, and fry until the onion becomes soft and the spices aromatic. Season with some salt.
Add the chopped tomatoes and cook for a few minutes. Add the chicken stock, bringing it to a boil before lowering the heat to a gentle simmer.
Leave the tomatoes to cook until most of the stock has evaporated and the mixture has a saucy consistency. If it becomes too dry, add a little more stock. Taste the sauce, seasoning with additional salt and pepper if required.
Crack the egg(s) into the pan and then cover (with a lid, or aluminium foil). Covering helps trap steam that will cook the eggs from the top. Remove the pan from the heat once the eggs are cooked to your desired consistency.
Garnish with fresh herbs and serve in the pan with lightly toasted fresh bread.
This recipe is ideal for a one-person breakfast, but it could easily be served to more people by either using a larger frying pan, or cooking the sauce and then dividing it between individual ramekins, adding the egg and then finishing the cooking of the egg in an oven.