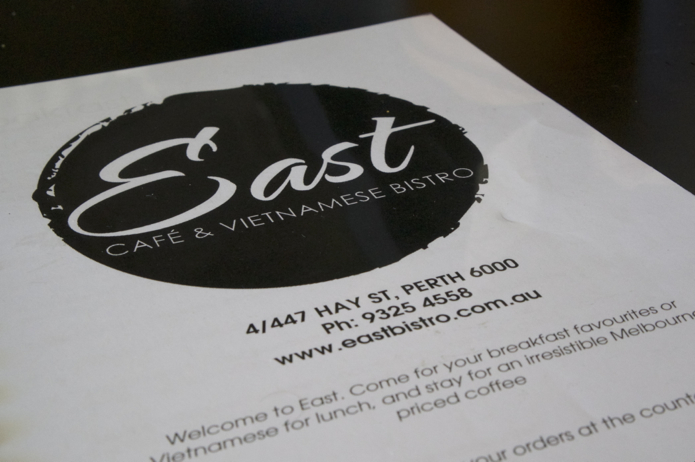 Studying medicine is no easy task. It requires at least six years of full-time university study (and when I say full time, I mean 25 hours a day), which includes endless rotations in hospitals, and shuffling through what might seem to the mere moral like never-ending textbooks. Starting a business from scratch is also no easy task, and brings with it a multitude of stresses that would probably make the average person keel over. Vinh Ngo, however, is doing both. When he is not studying physiology, or pharmacology, or whatever else medical students study, he is at his newly opened Vietnamese bistro, East, situated on Hay Street in East Perth. Some might call him crazy (I'll admit, the word did run through my head when he told me he opened for business just before his exams), however sometimes dreaming big requires a little insanity.
Although this is not Vinh's first business venture, his inspiration came from a particular speaker, Sam Prince, at a conference for medical students that he attended. Sam too was once a medical student with big dreams; big dreams that he later turned into the Zambrero franchise, currently boasting more than thirty Mexican fast food stores across Australia. Sam continues to work as a medical doctor while managing his business, using the proceeds for charitable causes. Tycoon might not be the right word, but Vinh sure has a passionate and entrepreneurial spirit, and hopes to achieve big things like Sam has.
East serves traditional Vietnamese food in a fast-paced cafe environment. This means lots of coriander, plenty of mint and lashings of fresh chili, all of the good stuff typically found in Southeast Asian cuisines. If you hadn't already figured it out from his name, Vinh is from a Vietnamese family, so he has grown up eating a lot of the food that he serves. In fact, Vinh called his mum out of semi-retirement to teach her recipes to the kitchen staff, so you can be pretty confident that he is serving traditional and authentic Vietnamese fare.
Of course I didn't go just to take photos. It was lunchtime, so I was getting pretty hungry watching all of the tempting looking dishes making their way out of the kitchen. I sat myself at a table and ordered the bun bo hue, a spicy noodle soup of beef and pork. It was getting quite hot outside, ideal weather for a nice cold drink, especially since I had some spicy nosh heading my way. I ordered an icy Vietnamese coffee.
If there's anything that irks me, it's an overly oily soup. Thankfully, the noodle soup that I was served was not at all like this. It was delicious, full of flavour, and I could see the bits of chili and coriander floating around. The pork and beef slices were not too tough, and the level of spice just right. I do love a good hit of heat, so next time I will request an extra spicy version of this fiery soup, however I think they have hit the mark with the intensity of this dish. As I looked around, it seemed that everybody else in the cafe was also enjoying their lunches, with every plate going back to the kitchen completely empty.
Vietnamese coffee is traditionally made by brewing ground Vietnamese-grown coffee beans in a drip filter and then mixing with sweetened condensed milk, very unlike the coffee that would typically be found in an Australian or European-style cafe. As I sipped mine I tasted a very distinct and unexpected flavour; a flavour that could not have been imparted by the Fiori coffee beans that were sitting above the shelf near the espresso machine (East also serves ordinary coffee, made skillfully by the trained baristas they have on board). The Vietnamese coffee that they use is a specially imported blend that has been selected by Vinh himself.
Between talking to the staff, as they ran around rushedly attending to the customers, and eating my lunch, I took notice of what other people were ordering. What seemed to be massive hits among the customers were the banh mi, or Vietnamese baguettes, stuffed with pork, meatballs, vegetables, fresh herbs, tofu, and all kinds of good things. With the option to either take a pre-made baguette, ideal for those on the run, or to assemble a custom baguette from a wide selection of fillings, these banh mi were flying out the door.
Finally, as the city workers finished their lunch breaks and headed back to their offices, Vinh and the team got to relax for a bit before the afternoon coffee-rush. I took this opportunity to take a quick photo of Vinh and to have a chat with him about his vision for the future. He would like follow Sam and use the profits from his entrepreneurial ventures to help fund projects that benefit the advancement of science and medicine. He has some things in mind to help this come about, but doesn't like to count his chickens before they hatch, so I guess we'll just need to watch this space!