Hungover after a heavy night out, sometimes nothing pleases more than a nice, heavy, soul-comforting meal to satiate the morning's hunger. Although I was not at all hungover (perhaps a little tired from nearly thirty hours of travel from the USA), The Old Crow in Northbridge was certainly a welcomed treat. Unlike the Tuck Shop just down the road, with people brimming out the door, there was no wait for a table – straight in and seated in the back corner.
The Old Crow serves a menu of dishes inspired by the far south of the USA, so naturally smoked and braised meats and deep fried goods are quite prominent. In fact, if I were to hazard a guess, I'd say the name of the restaurant comes from the infamous Kentucky-based Old Crow bourbon – a cheap drink generally considered to be of a low quality. If this is indeed the case, then thankfully the food wasn't as harsh on the throat as a bottle of the bottom-shelf liquor would be.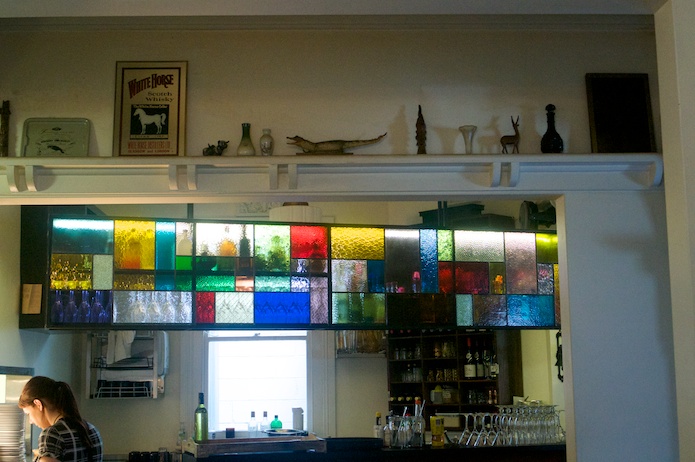 The visual design of the restaurant is rather quirky – there are lots of jars and other bits and pieces on shelves and attached to walls, with a bright green record player at the front. The bar is adorned with a very colourful stained glass window shelf, rendering the drinks and barware are barely visible through the mottled glass. The dining area itself feels very segregated, with the front part being highly illuminated as light from the sun streams through a large glass shop-front, yet the back dimly-lit part feels somewhat more concealed.
We were given menus, and immediately one of the dishes that I knew I needed to try was the smoked brisket hash – tender and smokey brisket with corn, coriander and "rooster sauce". I had no idea what rooster sauce was, however with a bit of Googling it seems that it is a commonly used name for sriracha sauce, an Eastern Thai chill-based sauce. The birdish nomenclature comes from the bottle of sriracha produced by Huy Fong Foods — with a picture of a rooster on the front — used often in the North American causal dining scene. I do enjoy bold and punchy flavours, so this dish was a standout for me.
Two of us at the table were big pork belly fans (the other two don't eat meat, but if they did then I'm sure they would also be pork belly fans), and find it very difficult to resist anytime we see it on a menu. The Old Crow serves their very tender, slow cooked, pork belly with spicy beans and two slow cooked eggs. Although a very warming dish, it was, surprisingly, my least favourite of the day. The pork was a little bit fatty for my liking, and the flavours not as punchy as in the other dishes.
I have no problem with vegetarian dishes, however it is not often that I select them from a menu, especially when there is brisket hash and pork belly just waiting to be had. On this day, though, that was a bad move. My favourite dish was in fact the vegetable only option – quinoa with roasted pumpkin, goat cheese and quince. The flavours melded together in perfect harmony to give an extremely tasty dish that I could eat again and again, and it certainly felt a bit healthier than the overly fatty pork belly.
The fourth dish we tried was salmon with hollandaise, pickled cauliflower and slow cooked egg. Salmon and slow cooked egg is a classic winner for me, and this rendition was well-executed, so naturally I enjoyed it a lot. Like the other plates, this was packed full of bold flavours, but the fattiness of the salmon, egg and hollandaise was contrasted well against the pickled cauliflower. I normally like salmon cooked medium to medium-rare, and this was done perfectly.
Given that The Old Crow is only about a 15 minute walk from my apartment, there is no excuse for me not to return to try the dinner menu (not that I need an excuse). I am already eyeing off the half smoked duck, perhaps with a side of hush puppies! Who wants to join me?