The Wild Duck restaurant once upon a time lived in Albany, in the far south of Western Australia. In 2012, however, it relocated closer to the Perth city, where it now lives on Hampden Road in Nedlands, not far from The University of Western Australia. I studied at the university for six years and had not even once visited the Wild Duck, so it was indeed a fitting location for a celebratory dinner after completing my last ever undergraduate exam.
On entering the restaurant, we were greeted by a gentleman who showed us to the table located in one of the back rooms of what somebody once called home. The restaurant in general is very elegant, however with the wooden floorboards, antique furnishings and an assortment of ornaments, there is no escaping its homely feel.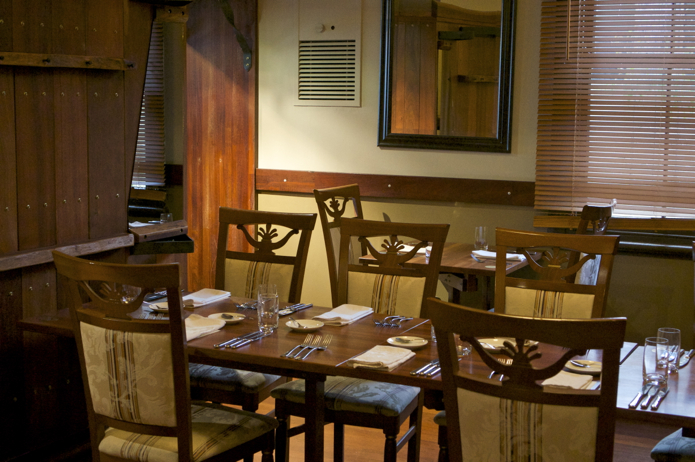 The Wild Duck serves what could be called modern Australian cuisine, with obvious French influences. Although they do offer an à la carte dining option, we had the five course degustation on the night. We were greeted by a gentleman who commenced the evening by outlining the menu and giving a brief description of each course. As he proceeded, he noticed that my uncle was explaining to my grandparents, in Italian, how the evening would unfold. As a kind gesture, the gentleman, being of Italian descent himself, also offered a full explanation of the menu in Italian. Che gentile!
First to come to the table was an appetiser; a spoon of chopped salmon with julienne apple. The salmon tasted like it had been gently cooked at a low temperature, not quite having the texture of raw salmon, yet maintaining a delicate silkiness. I am generally a fan of pairing salmon with something a little acidic to cut through the fattiness, so the batons of green apple were a nice touch. The appetiser was not overly adventurous or out-of-the-ordinary, however it was certainly a strong introduction for the meals yet to come.
Next was a scallop with sweet corn soup–another very simple dish, but executed so well. The soup had an intense flavour of corn and was so silky smooth, as was the perfectly cooked scallop. I could easily have eaten another few of these.
The next course had salmon making a second appearance, this time confit with a Niçoise salad. A Niçoise salad typically includes tuna, greens, tomato and hard-boiled eggs, however I was not at all disappointed to see salmon again, as it is one of my favourite seafoods. Instead of using hard-boiled eggs, this rendition had just a thin layer of cooked egg yolk smeared on the plate. The texture of the salmon was spectacular, literally flaking at the touch of a fork. The salmon sat atop a bed of avocado and went nicely with the well-dressed salad of greens and tomato.
One person at the table was vegetarian, so thankfully Wild Duck was happy to cater for her and provide alternatives to each course. Instead of the confit salmon dish, she was presented with a mushroom raviolo, accompanied by an asparagus foam, a truffle sauce and a salad of micro herbs and enoki mushrooms. Although I didn't taste the dish, it looked quite spectacular, and I certainly didn't hear any complaints from my aunty!
Diverting now from seafood, the next plate was a showcase of pork in two different ways. There was the 16-hour pork belly, which was everything a good pork belly should be–tender and falling apart, packed with flavour and with a crunchy crackling on top. The dish also featured pieces of pork loin. It is no secret that apple goes well with pork, however here Wild Duck took a less traditional and more avant-garde path, forgoing the typical apple sauce and instead serving the pork with small cubes of apple jelly and an "apple air" (really just an apple foam). I'm going to make the call and say that this was my favourite dish of the night. I am a sucker for good pork belly, and both the foam and gel had a distinct apple flavour.
It is not uncommon to be served a palate cleanser in the middle of a degustation meal, so this is what Wild Duck presented to us next. On offer was a mango sorbet. The sorbet was nice, however there was general agreement amongst those on the table that it was a bit too sweet. For a cleanser (and in general actually) I'd much prefer something with a little more tang.
The final of the non-dessert courses was crispy skin duck breast with pancetta, served with carrots, carrot purée, peas and duck jus. I love duck, and I loved this dish. It might have been verging on the border of almost being too salty with the pancetta, but that is really just me looking for things to pick on–I would happily eat it again, and again, and again. The jus was just perfect, and went so well with the smooth carrot purée.
Finally, of course, was dessert. The mango and pannacotta (literally cooked cream in Italian) dish was an artwork of colours, textures and flavours. I've mentioned it in previous posts, but for me a perfect dessert needs to have contrasting textures, which this dish presented nicely. The panna cotta was soft and with a flavour of what we eventually decided was cinnamon (or some kind of spice mix). The coconut ice cream was silky smooth with a distinct but not overpowering flavour of coconut, and the biscuit crumb underneath it all brought each element together nicely. This was the first time that I had seen coriander used as a garnish in a dessert (we were initially a bit confused, because it certainly did not look like coriander as we knew it. However the waitress confirmed that indeed it was). For me the negative of this dish was the choice of matching wine. Although I did not opt to have matching wines with each course (somebody has to drive, right?), I did request a glass of the wine that they would normally serve with this particular dish. The muscat dessert wine that was poured was cloyingly sweet and with an intense flavour that overwhelmed the delicate mango and coconut elements on the plate. Next time I'd go sans wine, or at least sans this particular wine.
Overall there was very little that I could fault with the night. The dishes were not overly adventurous, however they were all presented very well and tasted great. At various points throughout the night we made requests of the restaurant (modifications to some dishes, extra bread etc.), and in all cases the waiters were happy to help without hesitation. The service did however feel a bit slow at certain parts of the night, where there would be an unnecessarily long wait in between courses. It also became quite hot in the room in which we were seated, to the point where I needed to fan myself with the menu. The ceiling fans and air conditioning were eventually switched on, however the effectiveness of these was limited. I would happily return to Wild Duck in the future to sample a new degustation menu, or try some of the great looking dishes on the à la carte menu.