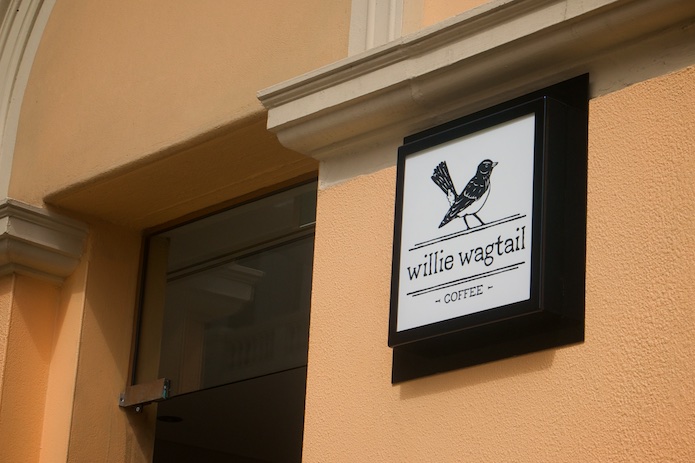 I was walking back home from Northbridge about a week ago and noticed this small cafe on William Street that I'd never seen before. I don't know what it was, but it looked like the cooler sort of cafe; the sort that does good coffee with a unique food offering. I made a mental note to revisit when I had more time. That time was this morning, for my final breakfast of the year.
With a very unassuming entrance (I almost walked right past without noticing it the first time), Willy Wagtail is one of Perth's newest morning hotspots, located near the corner of Wellington Street and William Street. As of this date it has been open for about 2 weeks, so they don't come much newer than this.
Willy Wagtail prides itself on serving good coffee, even having its own branded coffee (I forgot to ask if they roast it themselves). In addition to the usual espresso based drinks (blends and single origins), on the menu are filter coffees, which is usually a good sign of a pretty decent cafe. One thing that really got my attention was the cool little coffee display in the back corner of the cafe – a bunch of beans for purchase, but also a copper Hario pourover set.
The food menu is not huge, but it doesn't need to be. There is a fridge display with some yoghurt-to-go cups, and what look to be homemade muffins (they looked great – I will make a point of getting one next time I walk past). Today wasn't a muffin kind of day, and there was one standout item that I couldn't ignore – the Bacon Badboy. Although I don't really get this odd bacon cult-following revolution that we seem to be going through, this gourmet toasted sandwich sounded too good: maple glazed bacon, grilled apple, provolone and mozzarella.
Just looking at it is making my mouth water; it was every bit as tasty as I had imagined. Served alongside my glorious sandwich was a cold brewed coffee mixed with sparkling water, which has been my go-to drink in this warmer Perth weather.
Although the inside of the cafe is tiny and doesn't accommodate any seats, there is a great outdoor courtyard with a few tables and chairs. During summer months of Perth it makes a really great location to sit and have breakfast, but I'm not so sure how it will fare during the winter.
I can't finish up without mentioning how friendly the staff at Willie Wagtail were. From the moment I walked in to the second I walked out the door I was greeted with nothing but smiles and friendly conversation. This is the type of cafe I'd love to see more of around Perth, so I'll be sure to support them by going back to grab a coffee and a fig, pecan, coconut and chocolate muffin, or whatever has just come out if the oven, very soon.