When somebody asks me what is my most memorable moment of my Europe trip a couple of years ago, my ten days in Emilia Romagna is hard to look past. With some of the most amazing food I've eaten, unexpected encounters with locals, and a private tour with the owner of an esteemed acetaia, I can't stop thinking about my next trip back. I recently struck up a conversation with a friend that I was with when I travelled to Bologna and Modena, and it turns out that she is heading straight back there very soon for another foodie adventure. Naturally I was a bit envious, and it made me reminisce about my times in one of the food capitals of the world. It got me thinking about a really unique thing that I only ever found in Emilia Romagna; something that screams Emilian cuisine – spuma di mortadella. What the heck is "spuma di mortadella"? Well, it is the ultimate showcase of one of Bologna's finest exports. Mortadella is a cured pork product, with a touch of pig fat and other flavourings (black peppercorns, pistachios, etc.). "Spuma" translates literally to foam or mousse, so, without further ado, "spuma di mortadella" is literally mortadella mousse.
This taste and texture sensation was served often as a starter in many Emilian restaurants and trattorie. In fact, it was one of my absolute favourite courses at the famed Osteria Francescana, one of the world's top ranked restaurants (look at the photos from my visit). One of my favourite souvernirs from Bologna was a small book published by the Bolognese Chamber of Commerce titled "La Mercanzia", subtitled "Storie di Tortellini, Tagliatelle e…", or quite literally "History of tortellini, tagliatelle and…". The book contains a bunch of recipes that are considered traditional to the Bolognese cuisine, including the spuma di mortadella that I've come to love. The recipe below is based on a translation from the little golden book.
I decided to fancy it up a little bit by topping with some freshly crushed pistachios and some incredible 12 year old DOP balsamic vinegar that I bought from Acetaia di Giorgo in Modena (truly great stuff, completely unlike what we can find in supermarkets here, but with an astronomical price tag). Balsamic vinegar, parmesan, mortadella – together these can only mean a truly classic Emilian dish.
Ingredients
300g high quality mortadella
100g fresh ricotta
1 tablespoon freshly grated parmigiano reggiano cheese
1 tablespoon cream
Preparation
Chop the mortadella into 1cm chunks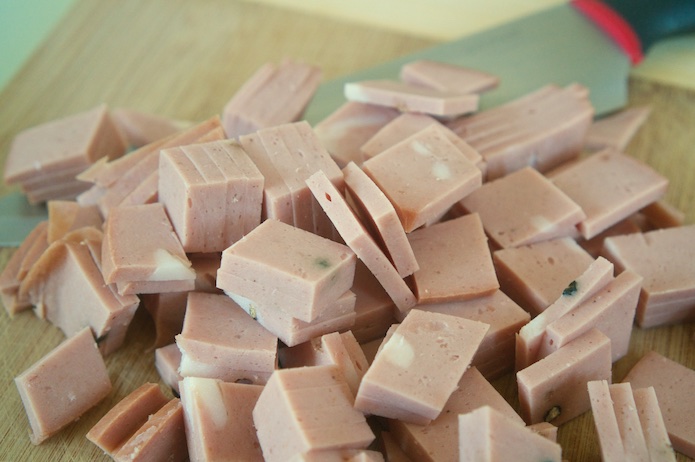 Add the mortadella, along with the cream, parmesan and ricotta to a food processor. Blend until the mixture has a smooth consistency and can easily be piped
Serve with some toasted or fried bread (use a piping bag for a little bit of extra class), with additional parmesan, pistachios and balsamic vinegar optional.