There is no doubting that the food scene in Emilia-Romagna is quite spectacular, and there is no need to fork out large sums of money for a very decent meal. A great lunch or dinner can be had at one of Bologna's many trattorias, for example, for less than 20€. Sometimes, though, it is nice to visit a restaurant that is a little more upmarket, a restaurant that serves food a little differently to the typical trattorias. For this, one can't look past Osteria Francescana, the Emilian creation of Massimo Bottura and recently placed as the third best restaurant in the world by Restaurant magazine. After having booked one of the twelve tables months in advance, I was pretty excited to visit this world class osteria, and it marked one of the cornerstones of my Europe trip.
The term osteria is used in the Italian food and wine scene, and is generally a very informal place where people can go for wine and simple food. They are found all over Italy and can vary immensely from one place to the next. They generally sit towards the informal end of the spectrum of dining formality, followed by the typical trattoria. The food offered by Italy's many osterie is typically very traditional of the particular region in which it is situated, rarely venturing into the realm of more avant-garde cooking. Obviously, Osteria Francescana is an exception to all of these guidelines, and sits way over on the formal side of the spectrum offering some of the most haute cuisine type dishes in the world.
When we first entered the restaurant we were greeted by a line of waiters and waitresses who all acknowledged us as we walked through the door. I must say that it felt a little strange, to be treated like superstars walking down the red carpet. I suppose the fact that we were the first to arrive that night had something to do with the undisturbed attention we received, but I always have a problem with overly pretentious service. I do enjoy the luxury of a well-functioning team of waitstaff, but I don't ever feel the need to be treated as if I am somehow superior just because I am handing over a significant sum of money for a meal. Our coats and bags were taken and we were promptly shown to our table, in a very elegant yet simply decorated room.
Bottura offers a few different dining options, including three degustation menus, ranging from the Tradizione in Evoluzione menu, which gives a taste of traditional Emilian dishes with the famous Bottura-twist, to the Sensazioni menu that showcases some of the more creative dishes that Massimo and his team have invented. Having fallen in love with the traditional Emilian food, we decided to opt for the Tradizione in Evoluzione menu, to see if it was indeed possible to improve on age old traditional dishes. With matched wines, of course.
The first thing to arrive at the table was, obviously, some freshly made bread. No meal in Italy is complete without some bread, and this was no exception. The bread was served with olive oil, and was always replenished as we ate it. The second round of bread was different from the first, featuring brioches that brought back memories of Paris. The only problem here was trying not to eat too many servings of bread before the second course had arrived, otherwise we'd be full on bread with no stomach space left for everything else. At one stage (after the first or second course, I can't remember) the waiter brought to the table a plate of grissini. Now I am not sure if they too were made in house, however the were easily the best grissini that I had eaten in my life. Sometimes these dry sticks of bread can be just that, dry and unpleasant to eat, however these were no chore at all. I suppose the distinction is similar to that between well-made bread and bread that more closely resembles a desiccated sponge.
After we were full on bread, it was time for the actual first course to arrive. This dish, Da Modena a Mirandola (From Modena to Mirandola), was a compilation of various Emilian products, masterfully worked together into a harmonious and unique dish. There was some cotechino, an Italian pork product, almond biscuit, zabaione (a light custard that, if I recall correctly, was made with Lambrusco, a sparkling red wine typical of Modena). Perhaps the most well known product of Modena is aceto balsamico, or balsamic vinegar (have a look at the bottle next time you use balsamic vinegar, there will more than likely be some reference to Modena, even if it is a low quality imitation balsamic vinegar), so of course there was a touch of balsamic on the plate.
The next dish was probably the simplest (in presentation, however perhaps deceptively complex to prepare) but one of my favourites: Ricordo di un Panino di Mortadella, or in English, Memories of a Mortadella Sandwich. Mortadella is towards to the top of the list of the most famous Emilian products (and so it should be), so of course it is going to feature on this Botturan menu. If I had been served some freshly cut mortadella between some freshly made bread I would have been pretty happy. However, I was of course expecting something a little different to mortadella and bread considering how much we were paying for this dish. What came to the table was a mousse of mortadella served with a gnocchi fritto, a Modenese fried dumpling, with a couple of condiments on the side. I have no idea how mortadella can exist with a consistency not unlike a light chocolate mouse, but I want to find out. Mortadella is naturally a bit fatty, so this mousse was almost like eating butter with the subtle flavours of pork. I want (no, need) to eat this again!
I don't know all that much about wines, so I rarely comment on the beverages selected by the sommelier when I opt for a wine-paired degustation, however when there is something noteworthy worth mentioning, I will mention it. In fact, the drink that came with my "mortadella sandwich" wasn't even wine, it was, unexpectedly, a beer. And not just any ordinary beer, but a chestnut and juniper beer. I had never tried anything like it (although I normally opt for wine over beer, so my beer palate hasn't really been exposed to much variety), and it went surprisingly well with my sandwich. I certainly couldn't have consumed too much more of the beer, given its distinct and strong flavour, however it was a very enjoyable glass and will certainly have me keeping a lookout for other less-typical beers.
I mentioned earlier that balsamic vinegar is a prime product of Modena, so it wasn't surprising to see it again in Cappuccino di Patate all'Aceto Balsamico Tradizionale di Modena, or the Potato Cappuccino with Traditional Balsamic Vinegar of Modena, this time in the form of a 45 year old vinegar, which is very aged as far as balsamic vinegars are concerned (I learned this during the day on my tour of Acetaia di Giorgio). In this rendition of a typical Italian breakfast, a cappuccino with a croissant, the potato played the role of milk and coffee, the foam was reenacted by an onion foam, and a brioche stuffed with a salami product starred as the pastry. The waiter added the balsamic vinegar at the table, much like it were the cocoa on top of a traditional cappuccino.
I said earlier that I don't normally say much about the wines (or beer, as in the previous case) unless they are noteworthy, as was the wine served with my cappuccino. Although Italians certainly do love their wine at almost any time of the day, it is not normally consumed at breakfast. However this rendition of a breakfast did feature a wine that wasn't afraid to take the spotlight. Because it had been aged in terracotta instead of the usual oak barrel, the wine served with breakfast had a very distinct and rather strong flavour. I'm glad that the wine was interesting and provoked some discussion, however I probably wouldn't buy a bottle of it.
What came next was a little bit of a surprise, not because it wasn't a spectacularly tasty dish that I wanted to be never-ending, but because it was very simple and not all that different to how tagliatelle al ragù (or tagliatelle bolognese, as it would more often be known in English) would be served traditionally. Although it was obvious that some work had gone into cutting the meat into perfectly uniform pieces, It didn't really have the Botturan twist that I was expecting. By this stage I had been to many a trattoria in Bologna to eat tagliatelle al ragù (obviously at a much lower price), and this was certainly towards the top of the list of best tagliatelle al ragù, however I would have liked to have seen something more.
During the course of the meal, Massimo himself came to the table and greeted us, as he slowly made his way across the room to each table. He asked us about the experience so far, and we chatted for a bit about the food and the restaurant. We spoke in Italian (although his English is very good after having worked in some of the finest restaurants around the world, under some of the most well-known names such as Ferran Adrià and Alain Ducasse), for which he was quite impressed, given that I was obviously a foreigner (there is no hiding my Australian accent). Before he left I had just one last question that needed to be asked: "How did you make the mortadella mousse?". He cunningly responded with a simple and obvious "It's very difficult". I guess he wasn't ready to divulge the secret of one of his signature dishes.
A dish eaten quite often in Emilia Romagna is bollito misto, or mixed boiled meats. Basically some of the tougher cuts of various types of meat are slow-cooked for hours in a lightly flavoured broth to help make them more palatable and then served with vegetables or a herby green sauce. I had seen this served in many restaurants and trattorias in Bologna, and it just didn't look appealing to me at all. The thought and sight of a plate of cow tongue, head and tail boiled to the point that they become grey just does not appeal to me at all, so I was really hoping that the bollito misto that we would be served would be a little more refined. Thankfully, it was. Arranged like a flower on a plate were six pieces of meat, including parts of the tongue, head, cheek, belly, tail, and a piece of cotechino, all with some flavoursome peperonata and salsa verde. Each piece of meat was succulent and preserved the true flavours of the animal, with the condiments providing a little something more. It was my first time trying tongue, and Massimo presented it in a very likeable way, but I don't think I'm game to try cooking it at home. I'd prefer to leave the happy memory of this rendition of tongue on a plate in my mind, rather than spoiling it with an attempt at cooking it myself.
The next dish, Raviolo di Zucca, came out and was described by the waiter as "north and south", as a reference to the differences in culture between the northern and the southern parts of Lo Stivale. Initially this didn't make much sense to me, because I didn't see the Southern Italian influence on this dish. It turned out, though, that north-south was a reference to the combination of contrasting sweet and sour flavours used in the dish. The filling of zucca, or pumpkin, inside the raviolo was soft and sweet, but the sauce in which the raviolo was dressed had a citrusy tang.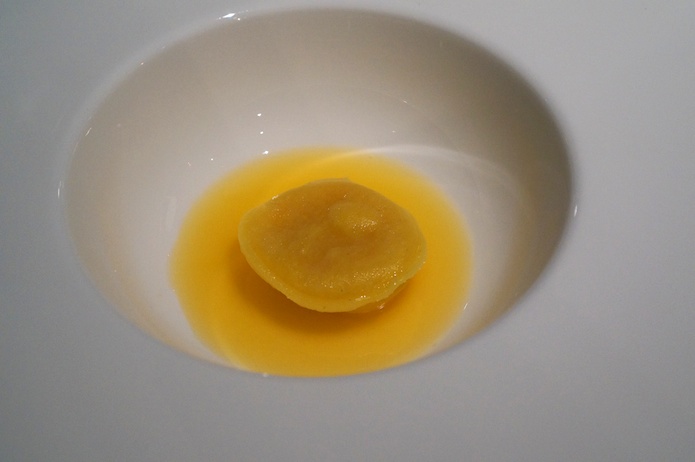 It was a nice dessert, but I think I will always find sweet pasta dishes a little strange for my liking. I don't mind fried pasta in a dessert (think cannoli from the far south, crostoli or cenci eaten during Carnevale, and "fried ravioli", which can be found in many a Bolognese pasticceria), so I would have preferred a variation on this plate. That is not to say it was unpleasant at all, no, but it is not the kind of dish that I would specifically choose on a menu amongst other options.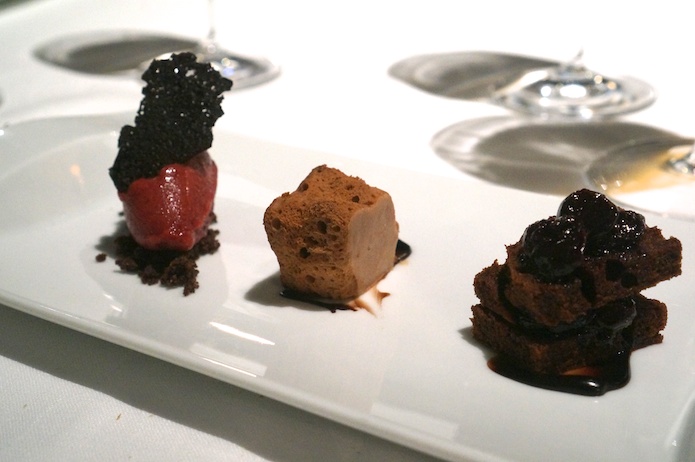 Following the first dessert was another dessert, this time a chocolate tasting plate with three bite sized pieces. Omaggio a Vignola featured a chocolate cake with confit cherries, a coffee flavoured parfait and a sorbet with chocolate crumble and shard. It was simple, and very nice, but short of spectacular.
We finished the night with a selection of petit fours, which wasn't listed on the menu, but is pretty much expected at a restaurant like this. Placed in front of us were two stands, each holding a selection of six different mouthfuls. As far as my general fine-dining experience goes, it was a pretty impressive selection of morsels. I don't remember the details of each piece, but I remember being wow'ed and looking forward to what would be inside the next one.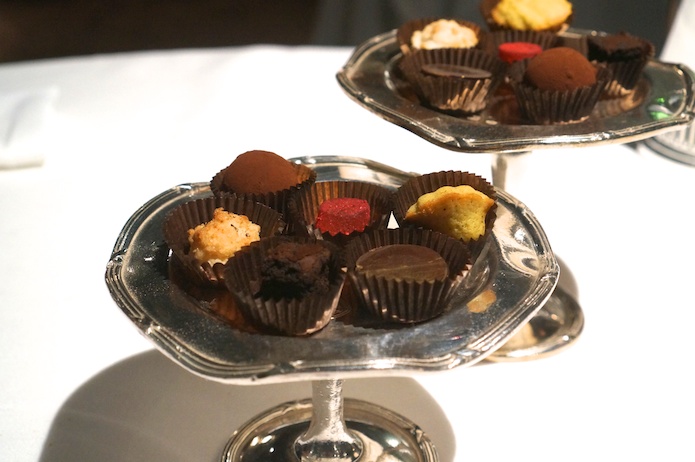 The waiter offered us coffee and then brought us the bill and gifted us a with a bottle of balsamic vinegar produced by Massimo. It wasn't the super-expensive type with DOP status, but it was a nice gesture. As expected, the bill was a little more than the traditional trattoria down the road (who am I kidding, I could probably have eaten for a week with the price of this dinner), but that is the price of dining at one of the top restaurants in the world – it's certainly not a twice-a-week type of dinner, but more a few-time-a-year type of experience. Regarding its number three ranking, it certainly is not difficult to see how it came to occupy its position in the top 10 restaurants over multiple years, but at the same time I'd have a difficult time ranking it with respect to some other establishments that I've dined at (in Australia and abroad). They all seem to reach a point at which the service is almost flawlessly refined, the food looks like a masterpiece on the plate, and the chefs manage to use flavour combinations and techniques that would normally be way out of the comfort zone of the ordinary home cook. Which restaurant does it better is often a matter of personal opinion and taste. Perhaps I needed to choose a different, less traditional, tasting menu to really get the full Osteria Francescana experience and appreciate its number three ranking – this I will do the next time I visit the stomach of Italy.